Warrior's Requiem was a hybrid Questing-Arena event in Grand Sphere and is the eleventh event of the game. It was preceded by Sentinel of the Shroud and was followed by Siege Wars: First Front. You were able to access this event in the Town Square or the Arena. It started after maintenance on November 19, 2015 and will end on November 26, 2015.
New Units
Edit
The following units were introduced alongside this event on November 11, 2015:
Name
Skill
Ability
Obtained From


Elvira, Grace of the Holy
4★

Divine Justice
Light DMG over time
Gift of Faith
Immune to status effects
Limited Time Fairy Set


Felicia, Rune of Light
5★

Holy Judgment
Light ATK on all enemies
Merciful Gaze
Flash ATK Power UP
Limited Time Fairy Set


Melissa, Duskbringer
5★

Fall of Velt
Fire DMG over time to all enemies
Berserker
If HP < 60%, ATK UP
100,000 Point Rewards


Brenda, Cold Rapture
5★

Ice Age
Water DMG to all, may paralyze
Unwavering Mind
Critical hit rate UP
20,000 Point Rewards
Point RewardsEdit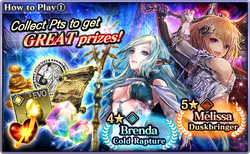 Point Rewards are received when a player earns a specified number of points. Each Point Reward can be received once only. After a player exceeds 100,000 Pts, 50,000 Luna will be rewarded every additional 50,000 Pts earned. Points are earned each time a player clears an Event Quest. Point Rewards will be sent to a player's Inbox. Point Rewards can be confirmed via the Pt Rewards button on the Event page. Points accrued will be deleted after the event has ended.
| Reward | Points Required |
| --- | --- |
| 2000 Luna | 100 Pts |
| 500 Link Point | 200 Pts |
| Medal x50 | 500 Pts |
| 3★ Mana Egg x1 | 700 Pts |
| Uncharted Map x1 | 1000 Pts |
| 15 Gems | 1500 Pts |
| 3★ Mana Egg x1 | 2500 Pts |
| 1000 Link Point | 4000 Pts |
| 3★ Fairy x1 | 6000 Pts |
| 4★ Mana Egg +1 x1 | 8500 Pts |
| 4★ Fairy +1 x1 | 11500 Pts |
| 25 Gems | 15000 Pts |
| 5★ Brenda, Cold Rapture x1 | 20000 Pts |
| 4★ Mana Egg +1 x1 | 27500 Pts |
| Uncharted Map x2 | 35000 Pts |
| 50 Gems | 42500 Pts |
| 4★ Fairy +1 x1 | 50000 Pts |
| 5★ Mana Egg +2 x1 | 60000 Pts |
| 10000 Luna | 70000 Pts |
| Medal x200 | 80000 Pts |
| 100 Gems | 90000 Pts |
| 5★ Melissa, Duskbringer x1 | 100000 Pts |
| 50000 Luna | Every 50000 Pts afterwards |
Event Details
Edit
Stated in-game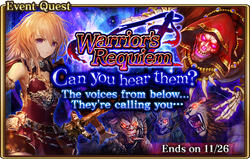 In this event, players will clear special Event Quests in order to earn Point Rewards to get Event Reward Units and other special rewards. Players can receive points by clearing Event Quests, or face off against Catalina's Knights in the Arena for even more points.
Difficulty LevelEdit
There are 3 levels of difficulty for Quests in this event.
You must start out by completing the Beginner (BEG) Quests.
Clear all Beginner Quests to join Intermediate (INT) Quests.
Clear all Intermediate Quests to join Advanced (ADV) Quests.
The higher difficulty a Quest is, the more points you will receive.
Advanced Quest enemies are quite strong. Enhancing your units before joining these Quests is recommended.
Event Bonus UnitsEdit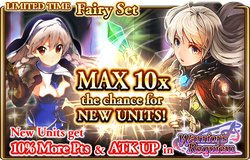 Limited Event Units can be obtained from the Limited Time Fairy Set. The following units will receive ATK bonuses and Point bonuses during Warrior's Requiem.
Bonuses conferred only during the Warrior's Requiem Event. Include up to 5 Bonus Units (including Supporters) in your Party to receive a total of up to 150% Bonus Points.
Event Item - "Rival's Souls"Edit
"Rival's Souls" are necessary to begin "The Final Battle" in the Arena. "Rival's Souls" may drop when clearing Event Quests. "Rival's Souls" cannot be obtained through normal quests. Any remaining "Rival's Souls" will be deleted after the event has ended.
Limited Arena Battle - "The Final Battle"Edit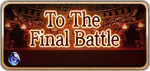 In "The Final Battle", players will face off against Catalina's Knights in the Arena. Catalina's Knights are quite a formidable opponent. Using a Party with a player's strongest units is highly recommended. Defeat Catalina's Knights in "The Final Battle" for tons of points! Wins against Catalina's Knights will not be counted toward a player's Victories in the normal Arena Record.
Event Reward UnitsEdit
The Event Reward Units are Melissa, Duskbringer and Brenda, Cold Rapture. Details for each unit are on the Rewards page.
Please be advised that the duration and details of this event are subject to change without notice.
DisclaimerEdit
Players found to have taken advantage of in-game bugs or who have used illegal tools outside of the game will have event-specific items, rewards and points removed and may be banned from GRAND SPHERE permanently. Units and equipment limited to this event may return in another event in the future.
External Links
Edit
Ad blocker interference detected!
Wikia is a free-to-use site that makes money from advertising. We have a modified experience for viewers using ad blockers

Wikia is not accessible if you've made further modifications. Remove the custom ad blocker rule(s) and the page will load as expected.